Days go by but they're never the same! With this pack of 7 disney® briefs in pure cotton, comfortable and easy to care for, there's a different adorable motif to wear on each day of the week. Pack of 7 disney® briefs 5 plain with motif on the front...
Champions, on your mark! Different colours and prints for every day of the week with this pack of 7 briefs in comfortable pure cotton... Boys will love them! Pack of 7 cars®briefs 5 plain 3 navy 2 red with car motif on the front 2 white with all over...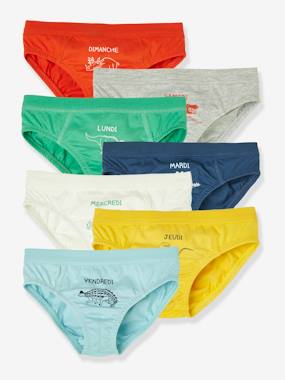 Fun dinosaurs on these 7 very comfortable briefs that boys will love! 7 briefs with different motifs for each day of the week! Pack comes with 7 assorted briefs 7 different colours and motifs cased elastic at the waist lined at the front pack of 7 briefs...