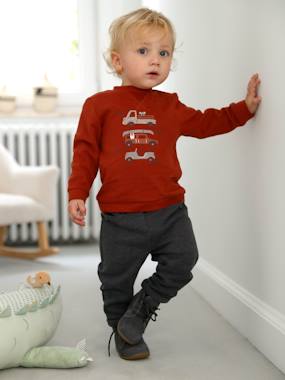 Ready for a trip? A lovely relaxed and comfortable outfit, ideal for everyday wear! Outfit includes a sweatshirt with motifs and a pair of fleece trousers. Sweatshirt for baby boys round neckline long sleeves press stud fastening on the back printed cars...
A fun sweatshirt, very soft trousers, playful socks... And voilà, a perfectly matching complete outfit for baby that will keep him beautiful and warm in winter! 3 piece ensemble for baby boys fleece sweatshirt round neckline long sleeves printed motifs...
A lovely chic and comfortable outfit to face the season in style! Outfit includes an elegant shirt and a pair of comfortable trousers. With a detail we love our designers had the brilliant idea of adding removable braces for an even more charming retro...