It's time for a getaway! And what a getaway a hot air balloon voyage, an imaginary escapade printed on this bodysuit top for babies! A lovely gift for newborn babies! Bodysuit top with hot air balloon motif for babies short sleeves printed motif applied...
The style of a t shirt with a motif that explores the imagination from baby's first weeks! The practicality of a bodysuit to make parents' lives easier when it's time to change nappies! The 2 combined take the lead with this 2 in 1 garment which has become...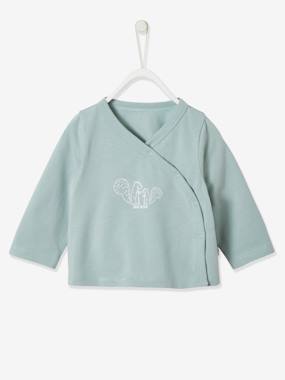 An essential item in baby's bag for maternity this lovely cardigan in pure organic cotton featuring graphics and very soft colours teams really well with a pair of comfortable trousers! Cardigan for newborn babies crossover panels easy fastening with...